MyFit
Our MyFit Blog aims to engage and inform so that we can collectively empower everyday athletes to better their best with every run.
Asian Chicken Schnitzel and Katsu Sauce
We've partnered with Hello Fresh to bring you three healthy and delicious recipes. Today's recipe is Asian Chicken Schnitzel and Katsu Sauce. Featuring Asian-style chicken schnitzel and crisp Japanese slaw, this meal is easy to cook and high in protein. It's the perfect dish to eat after your next run or training session!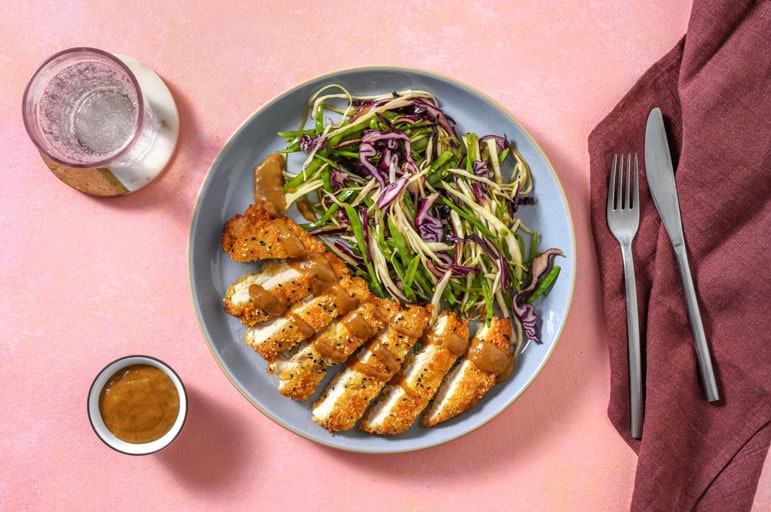 Serves 2
Ingredients:
1 container of snow peas
2 chicken breasts
A handful of mixed sesame seeds
Southeast Asian spice blend
Katsu paste
Panko breadcrumbs
1 bag of shredded cabbage mix
Japanese dressing
Olive oil
1/4 tsp salt
1 tsp brown sugar
1/2 cup water
1 egg
20g butter
Method:
Trim and thinly slice the snow peas lengthways. In a medium bowl, combine the katsu paste and water.
Place the chicken breast between two sheets of baking paper. Pound the chicken with a meat mallet or rolling pin until they are an even thickness, about 1cm.
In a shallow bowl, combine the Southeast Asian spice blend and the salt. In a second shallow bowl, whisk the egg. In a third shallow bowl, place the panko breadcrumbs and mixed sesame seeds. Dip the chicken into the spice mixture, followed by the egg, and finally in the panko breadcrumbs. Transfer to a plate.
Heat a large frying pan over a medium-high heat with enough olive oil to coat the base of the pan. Fry the crumbed chicken in batches until golden and cooked through, 2-4 minutes each side. Transfer to a plate lined with paper towel.
While the chicken is cooking, combine the snow peas, shredded cabbage mix and Japanese dressing in a large bowl. Drizzle with olive oil and season with salt and pepper. Toss to coat.
Wash and dry the frying pan and return to a medium-high heat. Add the katsu mixture and cook, whisking, until slightly reduced, 2-5 minutes. Add the brown sugar and butter and stir to combine.
Slice the Asian chicken schnitzels. Divide the schnitzel and Japanese slaw between plates. Top the chicken with the katsu sauce.
Looking for more recipes?
Try Mediterranean Haloumi, Pesto and Caramelised Onion Burger