MyFit Blog
Our MyFit Blog aims to engage and inform so that we can collectively empower everyday athletes to better their best with every run.
Back to School Lunch Box Ready
We've teamed up with George from @schoollunchboxau for some tips and tricks on packing your kids some nutritious food they'll definitely want to eat for lunch!
Just like we need to use the right fuel in our cars to do school drop off and pick up, our little humans also need the right food to fuel their bodies to get them through the school day.
As a parent/carer the most important factor for me was to ensure I gave my little girls the best opportunity to make the most of their school day.
Here are my tips and tricks on how to rock the school lunchbox.
Firstly, a good lunchbox always helps, ideally a bento style lunchbox that is airtight is ideal. Nothing worse for a child to open their lunchbox and it being a mess, they eat with their eyes so presentation is important.

Secondly, what I do is simple and this tip is the key, it's the number 5. Just remember to ensure you have 3 Veggies and 2 Fruits in their lunchbox. The nutrients that your child gets out of 5 natural produce is awesome. So remember the number 5 and you are on your way.

Thirdly, Protein and Carbs, is there a way to make them cool enough for our fussy little children? The answer, Make sandwiches great again. How did I do this? I got creative, but creative in a way that it wasn't a burden for me in the mornings, in fact it was a less than 60 second sandwich creation.

Introducing the Sandwich Dumpling, Sandwich Spring roll and the Sandwich Ravioli. By making sandwiches bite sized and fun our children are more likely to be interested. The key here is to not spoil them with hours of crafting a sandwich that looks like a panda bear with eyes that are from a tropical rare fruit only found in Botswana. Keeping it simple, quick and tasty is my aim with the 3 sandwich creations. Check out the images below to follow the step by step simple process.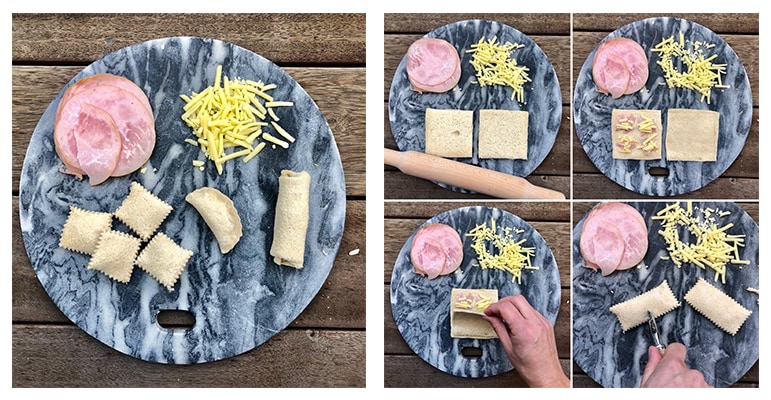 So when you are putting together a sandwich remember that your child just wants to play at lunchtime and a big daunting sandwich will stop them from doing so, make it bite size and less of a challenge for them.

Water is the key throughout the day, always encourage your child to drink at least a litre of water a day. Most drink bottles average 500 to 600 mills so ensure they drink two lots per day. During warmer weather I usually pop in some ice cubes with a few squeezes of lemon and lime for a little flavour. Stay away from sugary fruit drinks for school as they can lead to excess energy intake and tooth decay.

Here are some more healthy lunchbox inclusions:
Veggies
Carrot sticks, mini cucumbers are always fun, mini tomatoes are delicious, sugar snap peas lightly blanched are crispy and nutritious, red capsicum is sweet and juicy, corn kernels are fun and easy to eat.
Fruit
Sliced apples, strawberries, frozen passionfruit halves for summer, grapes cut in half, sliced pears, orange quarters, blueberries, mango hedgehogs, peach halves are easy to eat and not messy.

Carbohydrates
Wholemeal bread, there are so many different types of bread choose the one that best suits your child, wraps, rolls, rice is perfect in a California roll creation, try using black rice also as it's delicious and has many health benefits. Bagels and Croissants are also delicious to use. Wholemeal salada biscuits.
Protein
Boiled Eggs, Tinned tuna, Hommus Dip, lean deli meats (e.g. ham off the bone, chicken and turkey), grilled meats and even falafel balls are all a good source of protein that can rock the school lunchbox.
Dairy
Cheese cubes are always a hit with my girls, tzatziki dip with some bread sticks, natural yoghurt that you can add blueberries to, avoid cheese that is processed and use block cheese that you cut or grate yourself.

For daily tips and tricks on healthy school lunchbox ideas you can find me on Instagram @schoollunchbox or Facebook @schoollunchboxau