MyFit
Our MyFit Blog aims to engage and inform so that we can collectively empower everyday athletes to better their best with every run.
WHAT IT TAKES TO OWN THE COURT WITH NETFIT NETBALL
Netball is back!
With so many Netballers returning to the court this season we wanted to ensure that our range would deliver the perfect fit for you and your position. To achieve this, we've teamed up with Sarah Wall and Kim Green, the creators behind NETFIT Netball, to give you the stability, speed, durability, comfort and support required to be your best during every game and training session.
If you're not familiar with NETFIT Netball it is an online netball program with weekly fitness videos, fitness plans, coaching drills and session plans to keep Netballers ahead of the game. They provide a range of netball services to encourage and inspire netballers of all ages through fitness, coaching academies, empowering events, health and wellbeing workshops and internal netball tours.
"Be the spark that lights up your netball team ~ Bring a fire to your local netball community ~ Feel the spark of fitness and health gained through a sport we love ~ develop self-­belief & empowerment to achieve your personal best ~ Spark up your netball skills to be sharp and creative. And never give up on your goals and dreams." – Sarah Wall
Whether you're just starting out, got a few seasons under your belt, or play professionally this one is worth a read with plenty of knowledge for everyone…
Sarah… Kim… What does your body go through when training and playing Netball?
Sarah: In general, Netballers are all pretty much explosive athletes. It's critical that we can develop a lot of power – both strength and speed. The fundamental nature of the game is to land, balance, sprint, change direction and apply game sense awareness while performing a skill under pressure. Some people could say that netball is an unnatural movement for your body, so it's crucial to have the right form. If not, Netballers leave themselves open to injury. Landing technique is critical. If we don't have proper technique we can't generate the forces we need to be effective.
Kim: Netball is one of the most taxing sports on a body. With the shear speed and dynamic movements mixed with the ability to be able to stabilise a movement at any stage is why it has been dubbed that title. In training and playing, Netballers are running anywhere between 2-8km in a game, most of this distance is covered by short, change of direction repetitive sprints at 90%-100% of your max speed. Our bodies, especially our knees and feet, are put under immense pressure to stop, start and change direction at the drop of the hat. This is why having supportive shoes and great cushioning is a must.
Knowing how much strain your body can go through playing netball, how important is it to find the right fitting shoe?
Sarah: Whether you have goals to be a professional Netballer or someone starting out, finding the right shoe for Netball is a must! The most import thing about having the right Netball shoe is that they protect my feet on landing. I need the stability and cushioning for change of direction. They can make our feet feel comfortable while running out a full game.
Kim: I worked at The Athletes Foots for two and a half years and learnt how incredibly important it is to have a well fitted shoe. Just like life, everyone's feet are different, have different needs and playing a sport like Netball means the right fit is a necessity.
So, what do you look for in a Netball shoe?
Sarah: They need to feel light, cushioned heel, firm sole that doesn't easily twist or bend.
Kim: As a midcourter I want a shoe that is light and supportive for all my change of direction. I also like to make sure the shoe is fitted to the width of my feet… You don't want to be sliding around in your shoes.
What kind of shoe is important for the position you play?
Sarah: My netball position of Wing Attack has huge demand on lower leg joints. There is always lots of force going through the hip, knee and foot which is why stability is required for changing direction and agility. My average week is two court-work training sessions (incl. speed training), two weight sessions, two pool recovery sessions, one yoga class, and a game. That's why I choose the ASICS Gel-Netburner 18 because it is designed for maximum durability, high levels of arch support, increased comfort and most importantly stability.
Kim: I play all 3 mid-coast positions, and a shoe that is light and supportive is critical in helping me put out a great performance. My positions rely on me having great agility and speed whilst able to intercept balls at any stage and that why I love the ASICS Netburner Professional to compete and train for netball. With lightweight cushioning, a durable and flexible upper, and enhanced drive… It is built for SPEED! That's just for games and training though, if I am doing a conditioning, weights or recovery session, my shoe of choice is the ASICS Nimbus for extra cushioning.
Let's take a closer look at the technology behind Sarah's choice of shoe… The ASICS Gel-Netburner 18.
The GEL-Netburner 18 is a netball shoe built with high performance in mind.
It features:
AHAR rubber wrapped outsole is designed for players who have high wear in all parts of the outsole when playing netball. This includes the toe, the medial forefoot area, the ball of the foot and the heel area of the shoe.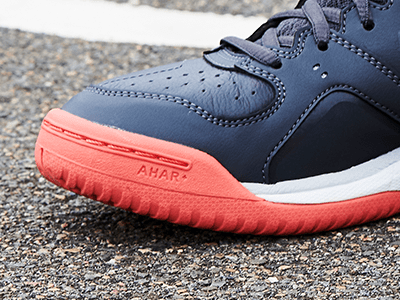 DuoMax® Support System and Trusstic System® Technology to deliver a high level of stability for players on court.
The synthetic leather upper gives a high resistance to wear and tear in a game and at training, allowing players to change direction with stability and responsiveness.
Now it's time to get up close and personal with Kim's choice of shoe… The ASICS Netburner Professional FF.
The Netburner Professional FF netball shoe is the new kid on the block. With a brilliant and completely updated midsole/outsole, a new running based last, as well as a higher toe spring, allowing for a more responsive explosive feel.
It features:
A greater amount of flex grooves in the outer sole means it feels like a running shoe, with a low-medium wear out sole. This is for players who show even wear in all areas of the outsole. For players who like to use a running shoe but find it wears prematurely.
The Trusstic System® Technology also provides torsional strength to the middle of the shoe.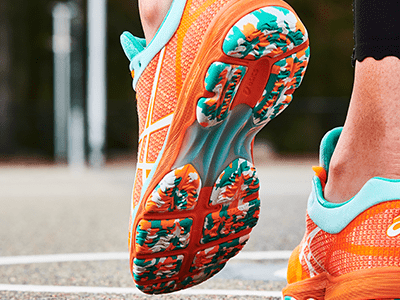 Flytefoam midsole along with Rearfoot and Forefoot GEL® Cushioning Systems, as well as a higher toe spring gives a lightweight cushioned and responsive feel for players who do a lot of running on a netball court. This is also the first netball shoe to introduce our revolutionary Flytefoam technology, making it 40g lighter than its predecessor.
The upper is made from a new TPU yarn material mesh, providing better durability than traditional nylon mesh, thanks to the reduction of synthetic leather reinforcements. This TPU yarn mesh is flexible whilst durable to feel like a running shoe, with the benefit of giving support for lateral movement.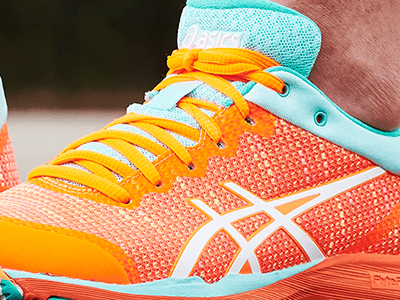 Want to know a little bit more about these amazing Netballers?
Sarah Wall
Sarah has played netball at the elite level for 12 years with the Melbourne Phoenix, Queensland Firebirds, Melbourne Vixens the NSW Swifts and the 2017 season with Giants Netball. Sarah is a qualified teacher studying Exercise Science and completing her Bachelor of Education at Melbourne University. Sarah's love for kids was the driving force behind selecting this career path. Although not in the classroom. Sarah's passion for working with all ages is a part of NETFIT NETBALL every day. Sarah's love for the game grows every year.
To kick start her elite netball journey she was awarded captain of her Underage Victorian State Team which drew the attention of the National League Selectors. Sarah has endured some serious injures throughout her netball career but has used them as an opportunity to grow and make the most of her potential. Sarah created a new and exciting netball brand – NETFIT NETBALL and is excited by all the numerous possibilities to activate dreams inspire healthy living and sense of community through netball. Sarah loves to create innovative programs to activate and inspire all that love the greatest game in the world. She always plays with a smile on her face and believes that whatever journey in life that you take it has to be a healthy and fun one!
Kim Green
It was clear that Kim Green had a bright future when she was selected in the NSW Swifts team as a 15 year old. In 2008 the ANZ Championship Kim secured herself a regular starting role with the newly formed NSW Swifts. They went on to win the inaugural ANZ Championship and Kim gained her reputation as one of the most formidable mid-court players in the tournament. Selection in the Australian Diamond's Test Team followed with her debut on the on the 17th September 2008 against the New Zealand Silver Ferns. Age 22. Kim was a member of the Diamonds who won a gold medal at the 2011 World Netball Championships in Singapore and gold at the 2014 Commonwealth Games in Glasgow. In 2014 she also was named as the joint winner of the ANZ Championship Most Valuable Player Award.
Kim Green is one of Australia's most capped players for the Diamonds netball team and was part of the winning team at last years' World Cup in Sydney. Green's World Cup campaign lifted her into the top 10 most capped Australian players of all time in what she described as her career's biggest highlight. Currently playing for Giants Netball, Kim has developed a netball travel and mentoring program where the NETFIT Tours Team take selected girls in LA and Hawaii to experience an elite netball tour. Kim loves working in a team and is known one of the greatest leaders in our sport. Kim is loved and respected for her loyalty and staying true to who she is. We love Kimmy for big heart and how she shares her knowledge and experiences with our NETFIT community.